Cornerstones Of Attire
While we tried to implement as many features as possible to make Attire a perfect WordPress theme, these are the most important ones.
First impression is the last impression
First impressions are vital on the web. Your customers, readers, and website visitors make an instant judgement about you and your business. If your website loads fast, you've instantly made a strong first impression. Around 50% of visitors to your website won't wait any longer for it to load is 3 seconds. Considering all those factors we made Attire as fast as possible.

Why your site needs to be responsive?
Mobile Use Is On The Rise. More than 55% of the internet users access internet from a mobile device and those devices come in various screen sizes. The image bellow shows how attire looks in different screen sizes.

You have a blog, or a WooCommerce shop?
We designed Attire in such a way so that it will provide seamless performance for any type of WordPress website. We made sure that to make it look good. Images bellow shows its blog and WooCommerce shop design.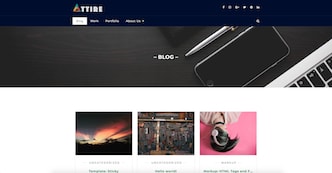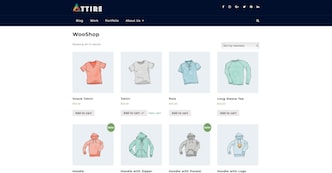 Have colors in your mind?
With more than a hundred customisation options you can style your website look like what you have in mind. We used WordPress customizer API for these options, so you can preview the changes you make prior to applying them to your online website. We organized every options under a relevant group name so it will be easier to find an option. If it lacks something that you want please let us know, we will try our best to give it a go.
Why you should choose Attire?
Attire's versatile design makes it a perfect theme for your blog/e-commerce/personal website.
Lightning Fast
When we coded/designed Attire we followed standard procedures so it will put minimal load on the server, resulting the website load faster.
Responsive Design
Attire is designed for all screen sizes, so it fits in a small, medium and big screens without breaking the style.
Translation Ready
We added translation support so that Attire can be translated into your preferred language.
Highly Customisable
Attire provides hundreds of customisation options so you can make you website look exactly the way you want.
Live Customisation
Attire uses WordPress Theme Customization API. Which allows you to preview changes to your website live, without interrupting the visitors.
Security
We followed WordPress conventions when made Attire. Which will make it a lot harder for hackers, malware, and other undesirable influences to impact your site.
Developer Friendly
We added a lot of action and filter hooks, making it highly extensible for developers.
Join with 500+ Attire Lovers!
Attire provides it's well categorized options in the native WordPress customizer. It allows making changes visually with real time preview. No more back and forth!
Elegant and no nonsense theme. Wasted a lot of time on themes that were crowded with visual junk I did not need. This is a great theme for anyone who wants a modern, minimalist type look. Nice editing options within the theme itself.

on WordPress.org
Amazing theme with extensive customization options. Very fast loading. Also, extensive options with the customizer make it easier to change any style in the theme.

Shahnur Alam

CEO, W3 Eden Inc.